Backlinks still remain as one of today's biggest Google ranking factors. Are they still relevant? This was asked in a recent B2C post. The article gives insight on how you can "publish your way in," but forgets to mention why the relevance of backlinks was getting questioned in the first place. I think it's because of social media.
If you play your cards right on your social media page, you could get a lot of links from posts and retweets, right? You could post something awesome or funny and it can go viral. Why do you need backlinks?
Because you need to be found, that's why. Backlinks build your reputation. They also influence your ranking on search engines, which increases your visibility. Inbound marketing boils down to creating great content and promoting that great content. SEO aside, backlinks are the results (and best compliments) of great authoritative content.
Backlinks are like huge, lighted arrows pointing search engines to your site or page. Backlinks help you get found. They give you tons of organic (search engine) and referral traffic (links). More traffic means more conversions and revenue, and more traffic signals to Google that you're relevant–  you get better visibility in search. Better visibility, better traffic.
If your website is setup for inbound results:
Optimized content
Landing pages
Effective and irresistible CTAs
Nurturing sequences that provide your targeted leads exactly what they are looking for
You'll have a conversion system happening that will delight you and your audience.
It's a happy cycle you want to start and maintain.
How to get great backlinks
High-authority backlinks are the ones that count. It can often be difficult to break through with authority backlinks, though. Think about the big fish in your niche right now. What are your chances of getting mentioned on their blog?
Here's the first DONT in this article:
Don't be pessimistic about it.
As I've mentioned before in my Content Marketing article; influencers like curating the best in their niche. 
So simply aim to be the best!
The DOs and DONT's
DO create a gift for your community 
If you want great backlinks, you need great content. No shortcuts around that. Unless you create a really great infographic instead of hiring a graphic designer, then yeah, that's your shortcut. If you have a good eye and the ability to learn, you might do really well with through Canva or Piktochart.
But then you need painstaking research for that infographic, right?
And of course, what influencer would link to a less-than-spiffy graphic?
So really, no shortcut.
Your goal isn't to aim for backlinks. Your goal is to create a gift for the community. Backlinks will follow. 
Earn links instead of building them.
What are gifts?
Supplementary content are one of the 4 ways you can effectively build links for even a brand new site, according to Neil Patel. Google loves it when you provide tools alongside relevant content. Think calculators, comparison tools, etc.
Story videos (tug at heartstrings or go after funny bones), video versions of great content (think stylized slides and infographics)
Infographics, comic strips, cartoons, memes. Something informative AND attractive. Something shareable. People love social currencies– give them content that would make them look great to their peers!
Do your own research, or curate stats on a specific topic from authorities. Be a resource!
Speaking of being a resource: Pillar content.
HUGE lists. The "ultimate" list. Roundups. Top tens. There's a reason you see a lot of these "template" posts. Not only do readers gobble up lists, but these posts are resources that earn a lot of backlinks.
Speaking of lists, feature other people, influencers. Talk about the big fish. Ask for quotes, opinions…
Write testimonials. Businesses would feature YOUR words about them and link to you because they'd want to show the world you're a real person or business!
A study by TheDutchLinkBuilder revealed these are the types of content that earn the most backlinks.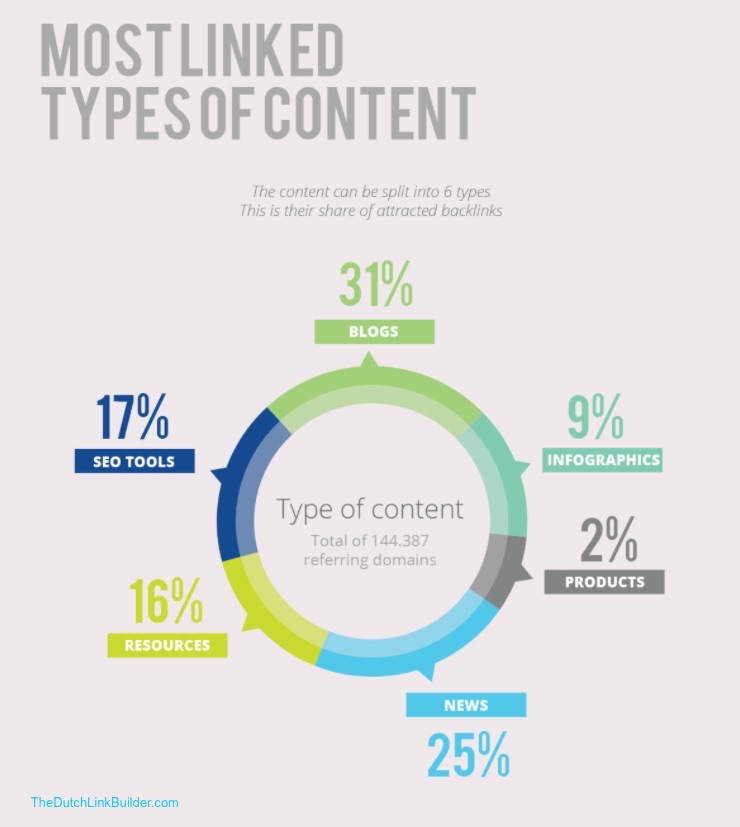 Resources, tools, news, infographics, blogs represent 98%– that's 98% of options for you to create a "source."
That's what they are.
Great content that becomes the "source" of other sites.
DO aim for an .edu backlink
Creating something painstakingly researched and well-presented rewards you with highly authoritative links: the coveted .edu links. Domains with .edu, .org or .gov are private institutions, colleges, government organizations. Can't go higher than that in authority!
DO link to authoritative sites. Link to others.
Who you link to matters as much as who links to you. Search engines find out what your page is about through your outbound links.
Your readers have come to expect to find additional resources embedded within your content.
DO promote your content.
So you mentioned and linked to those other blogs or sites. Use social media to let them know. Something as simple as using their existing hashtags can earn you a retweet and a link. You can also email them as a follow-up.
Make it personal and professionally brief.
DO guest post!
The easiest way to break through as a newcomer is to submit to older domains who welcome contributors. They'd have quality gates so it's a true mark of success to get in. Find a way to naturally link to your site in the main content. More on this below.
The SEO technicals of backlinks
DONT – as in never-ever – buy links or use automated software solutions to get backlinks.
It can be tempting and providers can be so convincing of their legitimacy, but nope. Don't. Even link exchanges are penalized by Google.
DONT neglect your site's backlink profile
The quality of the backlinks matter. So maintain that quality. Disavow spam links with Google's Link Disavow tool. Free backlink checker tools like the Moz's OSE can help you monitor your backlinks. SEMrush.com has a fabulous, for fee, tool.
DO alt-text your images
Graphics are powerful link-building content. So make sure you optimize them to your advantage! Use hyper-relevant alt-text for the topic of your graphic or articles. The alt-text becomes the anchor text for backlinks.
DO go for contextual links
Links within the content far outweigh links in signatures and bottom spots (i.e., bio links in guest posts). Think of it as the honored guest tables, as opposed to the tables at the fringes of the party. Link location affects your referral score. Links at the top (close to the headers) matter more than links that occur toward the bottom of the post or page.
Entire page relevance. Become a resource in your niche. If the page linking to you is highly relevant to your content, that adds even more value and authority to the backlink.
The text that surrounds your anchor text contributes to Google's understanding of the link. Anchor text doesn't matter as much these days. Latent semantic indexing looks at the rest of content. Here's how to master co-occurrence.
DO diversify
This is why guest posting is on top of this post. You want your links to come from natural backlinks, from guest posts, other 'natural' mentions and contributions. Search engines are now nearly human-smart. They aren't a fan of too many links coming from only one source. You risk getting penalized.
Focus on content
Forget the keywords and forget the backlinks. They're bonuses. Aim for great content. Create, curate and publish helpful resources your audience would find truly valuable. They'll link to it, share it on social media, forward it via email. Influencers would take notice– especially if you promote your content properly!
Creating great content is time consuming. It is expensive. However, it is the bait your targeted fish want and eat. So, you have to fish with it.
If your content is great, but your website stinks or isn't setup to convert visitors to leads and leads to customers, you're wasting your money.
Whether you need help with your content, your SEO, a new website, or you need an inbound marketing strategy and support, we can help you.
Not really sure what you need?
Schedule a complimentary consultation. It's Free. No salesy stuff. No pressure. No obligation. Promise.
Education is empowering. We are here to educate and empower you so you can achieve your goals.
---
Request A Consultation
---