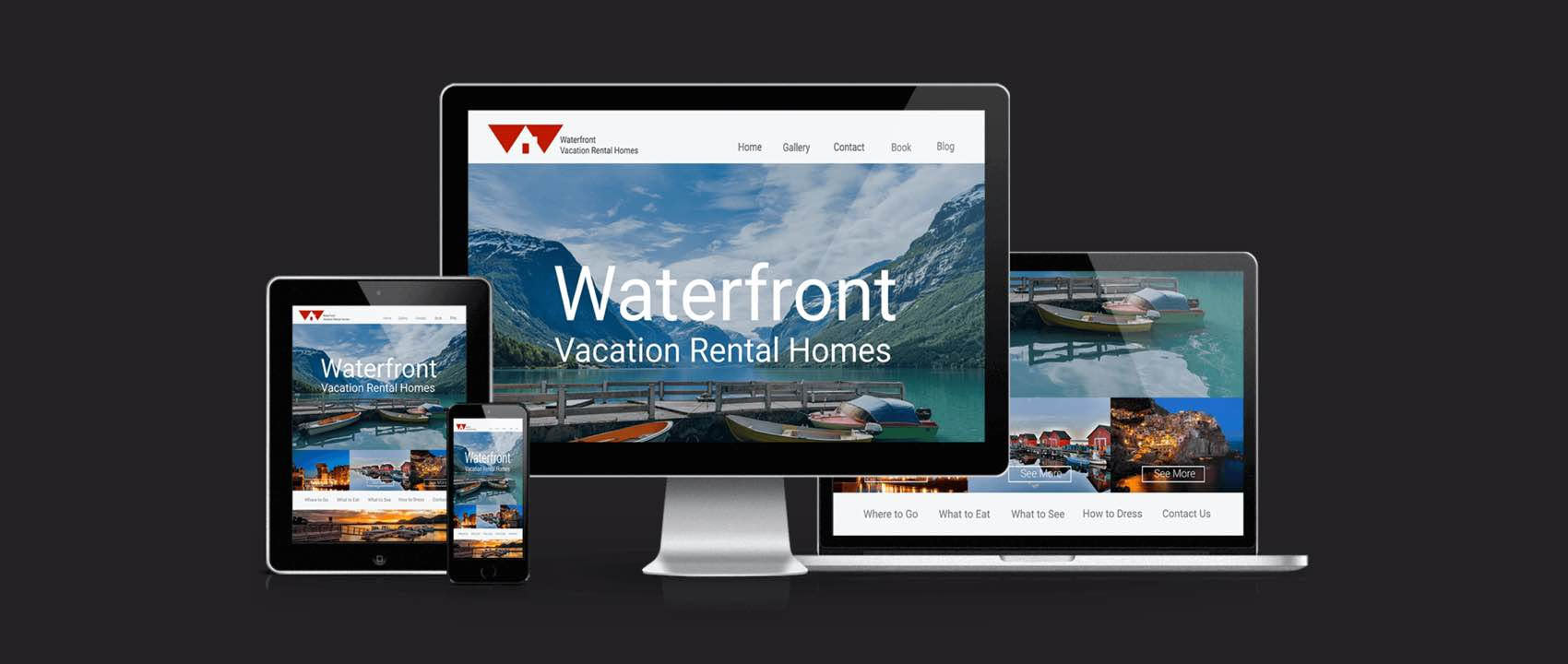 Perfect Web Design & Development
Traditional Development or Growth Driven Design
If you want your business to succeed and you want more clients and more revenue, increased profit, and enhanced brand loyalty – developing the right website for the specific needs of your business is a must!
The first step in developing a website that will attract more prospects, closer more customers and out-perform the competition requires an understanding of many elements of your business and its goals.
Our consultative approach begins with a comprehensive assessment of your business, your ideal customers, and your growth goals.  Once we have a strong understanding and vision for where you are and where you want to be, we work collaboratively with you to design the solution that's going achieve your goal.
We'll work with your budget and your goals to make your business stand out and grow.
Why You May Need A New Website
How well you comply with Google's page ranking criteria determines whether or not your website can be found by your buyers.
The world of search and search engine optimization has changed everything.  It keeps changing – nearly every day.
Ninety-percent of your buyers use search engines to research a solution to their need or problem. When they conduct a search query, the search engine uses a series of algorithms to return the web pages that provide the best answer or solution. When this involves a service or a product, the top ranking results are likely to be local.
Recent studies show that most buyers conduct this search on a mobile device, find their solution and then do one or both of the following: 1) Call the provider to learn more and/or 2) go in person to their local provider to buy what they need.
Finding your website is only half the battle.  First, your website must be mobile-friendly, the design, navigation, flow, ease of use and too-many-to-list technical aspects must be in order. When those are in compliance with Google's Webmaster Guidelines and your site's web pages have been optimized, your sitemaps have been submitted to search engines and keyword optimization has been conducted effectively, you can begin to compete for search engine page rankings.
Why you might need a website redesign.  Google is aggressive about who gets top rankings and who doesn't. Design is more important than ever. If visitors come to your site and then leave quickly, it increases your bounce rate. The higher your bounce rate, the more negatively it impacts your rankings. Google interprets the bounce rate to suggest your site is not credible and visitors are not getting what they need.
Complete website and competitor analysis. One of the first things we do before our first conversation about your website is conduct a complete, comprehensive analysis.
We work with you collaboratively to identify what is working for you and what isn't
Then, we work with you to quantify

the value of your website's current performance
the value you may be missing if there are problems (i.e. your website isn't attracting and converting new customers and keeping your current customers coming back)
the value and return on investment of the solution that is best for your business
Our Web Design and Development Process
Planning and Strategy
This is the most important step.  Gathering and understanding key business intelligence is paramount to producing a high-performance website.  With clarity around your business and its goals, we can develop a site to influence and support your business goals.  Many times we find online revenue opportunities that haven't been uncovered previously.
We work to understand your products and services
We gain clarity and an understanding of your business goals. Your business goals determine the goals and the focus of your website. This significantly influences the design, layout and content of your website.
We learn about your target audience. Information about your customers (age, gender, interests, desires, etc.) help us to determent the best design style for your website.  We also analyze your specific client segments.  This helps us understand the voice and message that each client segment will respond to best. It helps you know what individual landing pages you will need to reach each segment.  This significantly increases lead generation and brand awareness.
We conduct competitive research.  Understanding how your competition looks online and what they are doing helps us know what opportunities exist and how we can leverage them to expand your brand awareness, improve your lead generation tactics, increase client acquisition and market share.
We work to identify and understand your competitors. What companies offer similar products and services? Knowing who your competitors are and what they are offering is an important part of building a successful business. We can make your web site stand out from the crowd and respond aggressively to out-perform rival campaigns.
We help you define your key messages that resonate with your ideal customer. What kind of information are your customers looking for on your website? Key messages are the core of what you communicate to each client segment
Learn more about our conversion-driven (aka growth-driven) website design process
Developing Your Site Infrastructure
Once we have gathered your key business intelligence, we are able to develop the website map.
The website map is a design planning tool we use to:
map out the site architecture – structure, navigation and page hierarchy;
categorize and group content that will be on your website;
organize the order of the web pages so your targeted audience can quickly and easily fulfill their search goals
The site structure is responsive and can be changed and updated over time, and therefore properly respond to the evolving and growing needs of your business.
Design
Every web development project starts with the design phase. We use elements of your brand, colors, fonts and much more to bring your web site to life. Good web design is what encourages your customers to explore further into the website. It needs to be simple and user-friendly, but unique and interesting. Our goal is to make your website attractive to your customer, while ensuring all of the technical elements works perfectly. With ongoing collaboration, feedback and approval, we can deliver intuitive navigation, optimal usability, and a rich, cutting-edge design that suits perfectly your business needs and goals.
Visual design is what attracts visitors to explore your website.  Your content ensures they will return over and over again.
Development
With the design approved, the website enters the development phase. This phase consists of two parts: front-end and back-end.  The front-end of a website is the part that visitors see and interact with (layout, fonts, colors, dropdown menus, sliders, buttons, contact forms, etc.).  The visual aspect is produced with a combination of HTML, CSS, and JavaScript. Those are the main three coding languages that are used in this part of development phase.
Back-end programming produces the front-end experience. The function of back-end code is more complex than the front-end. The developer builds an application (using server-side code like PHP, Ruby, Python, .Net etc.) that connects with a database (using MySQL, SQL, Access etc.). The database saves data, provides search, data change and save features.  It returns this information back to the user in the form of front-end code. The development phase is the most time-consuming part of building a website.
During the development, test and launch stages, your website is on our development servers.  Visitors cannot find it.
Testing and Launching
Before launching your site, it goes through rigorous tests. If we find anything that does not perform as expected, we fix it and test again. Your website is tested in major browsers to be sure it renders as expected to viewers. Your website is also tested across the most popular mobile devices, as well.  Once we ensure that everything is functioning perfectly, we present it to you for your final approval.  Once you provide the "Okay," your website will be launched and viewable to the public.
SEO (Search Engine Optimization)
There was a time when search engine optimization efforts were considered optional.  Unfortunately, they are no longer optional if you want your customers and potential customers to be able to find you.  Your search engine optimization strategy and efforts ensure your web site is search engine-friendly and that it will rank high in the search results. Targeting the wrong keywords and terms can ruin your business by generating low-quality traffic. Low-quality traffic creates high bounce rates.  High bounce rates will kill your search engine rankings, making it very difficult to recover. The goal is to attract visitors that are highly interested in your offering and the content you offer.
Learn more about why search engine optimization is a requirement for websites – it's in layman's terms, I promise.
Website Maintenance
Once your web site is up and running, you'll need to be sure the code, theme, plugins and third-party scripts are kept up to date.  These updates can happen several times a month and during high hacking periods they'll require updates several times a week. For the convenience and security of our clients, we provide the highest levels of website security, high-speed, 100% uptime hosting services, multiple site backups stored in locations around the US and 24/7 website security.  We take care of everything, so you don't have to.
We've created a process that delivers high-performance websites and provides our clients with increased lead generation and revenue.  In addition to delivering a beautifully designed work-horse of a website, we work purposefully to ensure you have a pleasant experience, too.  We pride ourselves for the business intelligence you discover and leverage as a result of our process, long after your site is launch.
Give us a call or email and let's see what we can do for your business!
Your Online Business is Aways Open
Your website runs 24 hours a day, seven days a week, 365 days a year. Even when you are not working, your website is. At their convenience, customers can visit your site for support or information about your business or learn about your products or services.
If your site is working for you, your customers can shop, buy, learn about your services, your products, and your business and you can move them through the buyer's journey effectively without missing a beat.
Traditional Website Development or Growth Driven Design
Website projects almost always follow the same path.
First, you determine that you need a new website or a redesign.  Then you start researching your options. Once you decide on the website solution provider, you tell them what you want and what you want it to do.
The Traditional Website
In about three or four months, your new website hits the launch pad and voilá!  And the traditional logic has been that you leave it alone for another 2 to 3 years.
This process has made sense for decades… but a lot has changed in the recent past.
You've heard that content is king! Your customers demand current, well-written, relevant content that helps them understand their challenge, define the problem and then the solution.  The most recent studies reveal that web pages that achieve page one ranking in the search engines have approximately 2,000 – 2,400 words of deep, rich content.
Businesses whose websites are attracting ideal leads and prospects, and are closing new customers and inspiring existing customers and fans to come back for more are continuously leveraging the power of their website to grow their business.  The Growth Driven Design approach is the solution to managing the continual efforts that consistently increase customer conversions.
The Growth Driven Design Website
Your website is the hub of all of your marketing activities.  It is your best sales person.
Growth Driven Design (GDD) is a superior process that avoids the risks of the traditional "one and done" website approach. It provides the process for achieving peak performance from your website. The GDD is quick, agile and produces better results and ROI.
Growth Driven Design takes a systematic approach to shorten the time to launch, focusing on real impact and continuous learning and improvement. It involves continual research, testing and learning about your visitors to inform on-going website improvements that continually produce next-level results.
GDD is tightly integrated with marketing and sales. As we learn about your visitors, we improve marketing and sales strategies and tactics – in real time.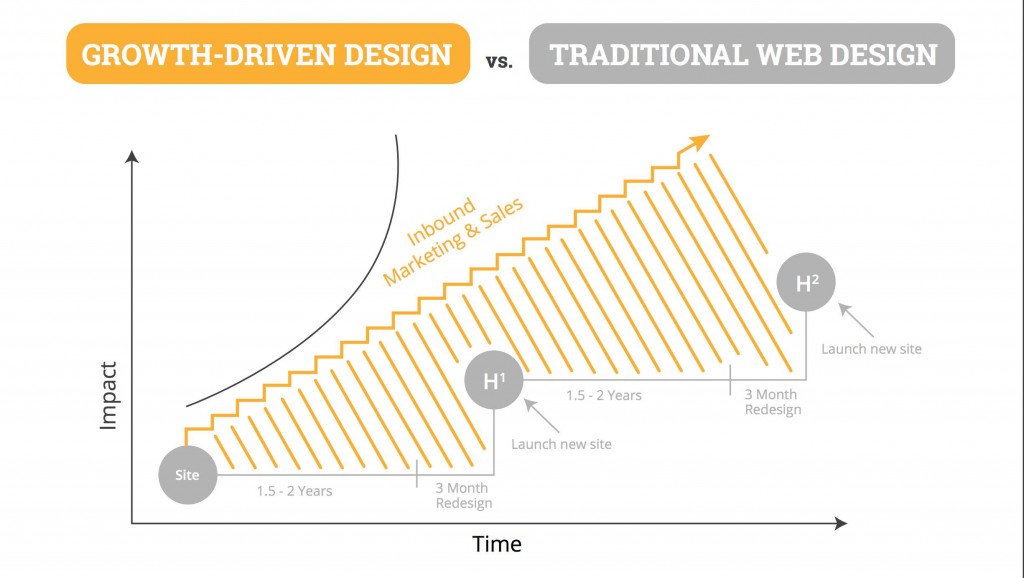 Small Budget? No More Financial Obstacles
A great website doesn't have to cost a lot of money. In truth, you do not need a big budget to get a visually attractive and functional website that will connect with your customer and grow your business. You do not need to start with a lot of pages, just a simple and effective website that is attractive to your target market, has a functional design, is error-free, easy to navigate is enough to get at great start at attracting more customers.
Developing a powerful marketing strategy and executing it according to plan will increase awareness and exposure for your company and your brand. It will also increase leads and customer conversions while increasing your business credibility. Your website is the center of all your online presence and marketing strategies. Online marketing generates traffic to your website, turns visitors into loyal customers and helps you grow your business in unmatchable ways.
First, you need someone to design your website. Simple enough, right? That was a trick question.
There are some critical elements about your business that must be understood before embarking on a new website. Our team of business strategists, design and development experts and our online marketing gurus analyze your business, your goals, your opportunities and align a solution that fits your budget and your goals. Our ability to provide a comprehensive suite of solutions provides a significant advantage to our startup and our growth-oriented clients.
At the center of our creative agency is our strategy consultancy.
We've been in the business strategy business for more than 10 years.
We've been designing websites and online marketing strategies since the early 2000s.
Our expertise represents a combination of business know-how, creative thinking, original ideas and unparalleled technical savvy.
Our entire team is committed to understanding your business strategy and how it translates online. Once we have a keen understanding and vision for your company, we align your website goals and online strategy to your business goals and strategy. When your project is completed, we continue analyzing results, making meticulous refinements for peak performance and ongoing achievement of your goals.
Our goals are your goals and we are completely dedicated to achieving your goals.
We build powerful lead-generating, high-ranking websites and online initiatives that produce the measurable results you need and expect.
How Does Your Website Stack Up Against the Competition?
Get your free comprehensive website analysis and actionable strategy plan
At Blue Iris Marketing, we want to help companies like yours excel in the rapidly evolving world of online marketing. Our free website and online marketing analysis and strategy recommendations provide you expert advice so you can out-perform your competition.
As part of this analysis, one of our website and online marketing strategists will evaluate your current website to identify actionable ways you can get more traffic, leads and conversions from your website.  He or she will review your:
Website design
Technical aspects of your website
Search engine optimization opportunities
Competitive analysis
and more…
If you would like this free analysis and actionable strategy, please complete the form to the right so that your strategist has all the information he or she needs to conduct the analysis prior to your call.
There is no risk.  No obligation. No credit card required.
There is no pressure to purchase. We promise.